The "High Ankle Sprain" – what's the deal?
The "H
igh Ankle Sprain" – what's the deal?
By Nick Ryan, Eastern Foot Care Sports Podiatrist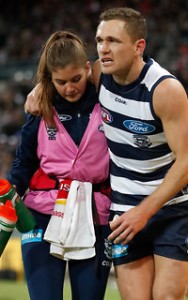 Major news in the AFL world this week. Geelong Captain Joel Selwood is set to undergo ankle surgery to repair an ankle syndesmosis injury following an inversion-type sprain sustained in an awkward marking contest. Eastern Foot Care resident Podiatric Surgeon (and avid Geelong Cats fan) Simon Smith is reasonably devastated!
So what does this all mean? What is the big deal about these "high ankle sprains"?
The ankle syndesmosis is the region at the top of the ankle joint where the two lower leg bones (the tibia and the fibula) meet. The syndesmosis is made up of two ligaments and can be injured in a high energy mechanism, such as typically occurs in the football setting. In some circumstances ligamentous injury to the syndesmosis is subtle and can go for a period of time undiagnosed. This can lead to long term instability of the ankle and a difficult rehabilitation period.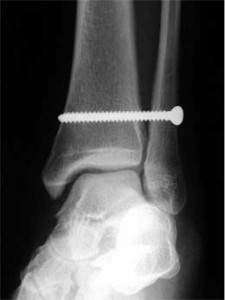 Typically if the syndesmosis is identified as unstable or if imaging confirms disruption of the ligaments surgery is the treatment option of choice. Typically the syndesmosis will be reduced via insertion of a screw that is often removed later on. Some notable "high ankle sprain" victims from the AFL ranks include West Coast's Sharrod Wellingham (courtesy of a trampoline accident of all things!), Carlton's Marc Murphy (it ended his 2016 season early), and the Bulldogs' Tom Liberatore had surgery towards the end of last season which remarkably allowed him to dominate in the Bulldogs' finals campaign last year.
The suggestion at this stage is that early intervention for Selwood will allow him to return to the Geelong side for at least part of the 2017 finals campaign.
We'll be watching!
Nick Ryan is a Podiatrist with Eastern Foot Care. To make an appointment to have a lower limb sport injury assessed and managed by one of our Podiatrists contact one of our clinics on:
Eastern Foot Care Ringwood
27 Wantirna Rd
Ringwood VIC 3134
Ph: (03) 9870 1301
Eastern Foot Care Knox
5a/426 Burwood Hwy
Wantirna South (Knox) VIC 3152
Ph: (03) 9887 2233