Injury to the Lisfranc Ligament – what's the big deal?
Nick Ryan,
Sports Podiatrist
Eastern Foot Care
B.Pod (Hons), B.App.Sci (Human Movement), A.A.C.P.S.
Disclaimer: the author is certainly not a Collingwood supporter. Despite this Eastern Foot Care embraces football fans from all teams and does not discriminate!
For those of our patients and social media followers who are into Australian Rules Football you will have heard of the news that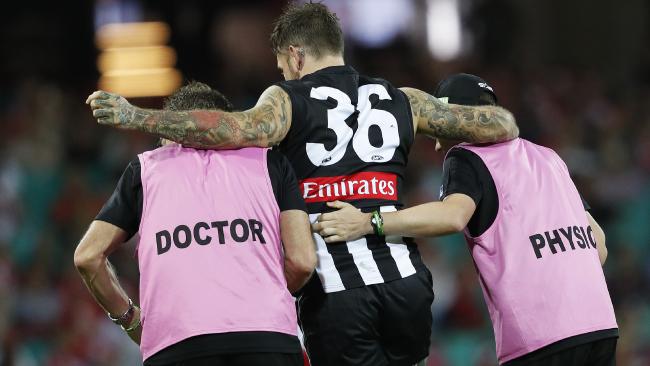 Collingwood Brownlow medallist Dane Swan has been ruled out for a lengthy period with a nasty foot fracture. Swan sustained an injury to his foot in a marking contest during Collingwood's loss to Sydney in Round 1.
The media is reporting that Swan has sustained:
–          A fractured fibula (the outside shin bone)
–          A Lisfranc ligament rupture (an important ligament at the top of the arch)
–          A fractured foot (likely the broken bone is an avulsion fracture at the Lisfranc ligament insertion – the reporting is not clear on this matter)
So what is all the fuss about this Lisfranc ligament?
The Lisfranc ligament is a very important stabilising structure of the midfoot and is of paramount importance to maintaining the structural integrity of the top of the arch. It is an uncommon injury and occurs primarily in a low energy setting whereby a force is applied to top of the foot that is flexed downwards. Lisfranc injuries are not commonly seen in the sporting setting.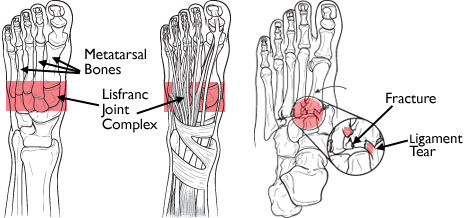 The Lisfranc "joint" was so named for French surgeon Jacques Lisfranc de St Martin. He first described injury to the Lisfranc structure during the Napoleonic wars when a soldier suffered gangrene of the foot after a fall from a horse resulted in disruption of the ligament. Dr Lisfranc performed an amputation of the distal half of the foot; thanks to modern medicine Dane Swan will not have to endure that!
These days Lisfranc injuries typically only occur in the presence of high level trauma, such as may occur following a fall from a great height or a motor vehicle accident. The treatment is almost always surgical and involves reducing the displacement of the joint and stabilising the bones with screws. Both Matthew Richardson from Richmond and Mitch Clark when he was at Melbourne suffered a Lisfranc fracture requiring surgery. Both players described a very difficult recovery and rehabilitation process.
So how is this problem diagnosed?
One of the biggest issues with the Lisfranc joint is the high rate of misdiagnosis in the emergency medicine setting. This is due to the relatively uncommon nature of the injury, and the fact that diastasis (separation of the 1st and 2nd metatarsals characteristic of Lisfranc ligament rupture) may not be initially apparent on x-ray due to swelling. MRI is the preferred imaging modality, and in multiple cases members of the Eastern Foot Care Sports Podiatry team have identified Lisfranc disruption after referring a patient for an MRI when plain film x-ray had previously suggested no abnormality was present.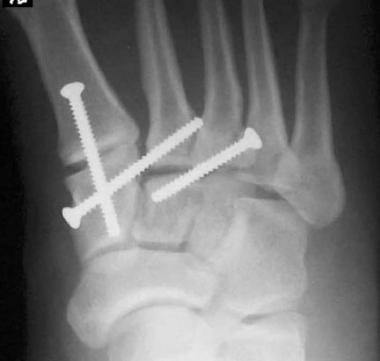 Swanny – gone for good?
This Carlton supporter would not dare to comment on whether a Collingwood player of Dane Swan's ilk will return to AFL football. Whilst a Lisfranc injury is a serious foot injury there are cases where players have returned to the elite level in the past. The big question is whether Dane has the desire to play on. And given Collingwood's performance this year….hmmm, might leave that one there! (especially given the performance of Carlton so far)
The Eastern Foot Care Sports Podiatrists are passionate football followers and experienced in managing players and support staff at all levels. To make an appointment with one of our
Eastern Foot Care Ringwood Sports Podiatry team contact us on (03) 9870 1301, or for our
Eastern Foot Care Knox Sports Podiatry team contact us on (03) 9887 2233.