Footlab+ remains OPEN during COVID 19 Lockdown 4
FOOTLAB+ will remain OPEN during Melbourne's latest 7 day lockdown for essential care.
We will be in touch with all our patients over the coming 24 hours in relation to their appointments from Friday 29th May 2021 to Thursday 3rd June 2021.
If you have a query or problem, please don't hesitate to contact one of our helpful staff who will be able to guide you through the care we are able to provide.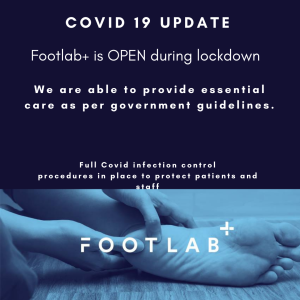 We have full COVID protocols and procedures in place.