Expert Pre Oxfam Foot Assessment and Treatment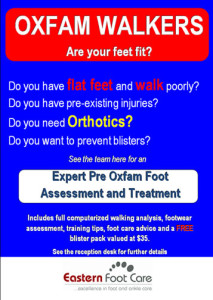 According to Oxfam, 'Blisters make up two-thirds of all injuries at the event and they are the number one reason our participants withdraw'. Take advantage of this offer today!
An extended consultation (45mins)
covering biomechanical and footwear assessments, training regimes, foot care advice and blister management.
FREE blister pack (valued at $35)
Full information kit packed with tips to help participants complete the walk.