Eastern Foot Care Sports Podiatrists explain why we get sore muscles 1 or 2 days after sport
"Why do I get sore muscles 1 or 2 days after sport or exercise?"
You may have DOMS… the Delayed Onset of Muscle Soreness
Exercises such as Strength training, Stretching, Running, Squatting, Aerobics, Dancing, Jumping or starting an activity that is new and unfamiliar to your body can give you DOMS. As a result 24-72 hours after exercise trying to perform basic everyday activities may be a real struggle. For example walking down stairs, sitting on a chair or bending forward to tie shoelaces. You may also notice a reduced range of motion, decreased muscle strength or muscle swelling.
What is DOMS?
It is a completely normal muscular reaction and usually feels as though there is stiffness, tenderness or tightness in the muscles when you move or put the muscles under tension. Although there is Individual variation, the peak of soreness is around 24 hours and over the next few days the muscles will gradually recover and eventually become pain free again.
There are many different theorie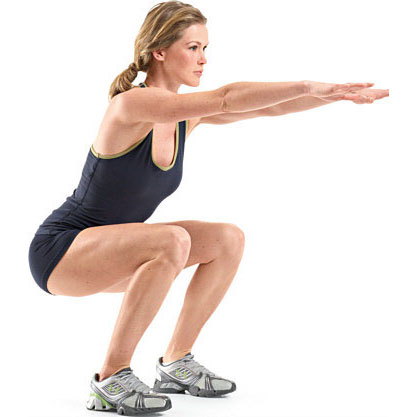 s on why this soreness occurs but mostly we know that it is caused by micro trauma in the muscle cells from eccentric (lengthening) muscle contractions. To give a bit more of a technical explanation it is microscopic lesions or tears at the Z lines of the muscles sarcomere that can cause bleeding and inflammation. Nociceptors (Pain receptors) within the connective tissue are then stimulated and lead to that sensation of pain.
Different levels of activity will influence the soreness of the muscle. For example the pain in muscles after running down a hill will be greater than if you had walked down the same hill. And as in the higher number of repetitions that you do will cause more damage or soreness than fewer repetitions.
Prevention
Although a lot of people suggest that a thorough warm and cool down will prevent DOMS in more recent studies it has been found that these do not prevent muscle soreness at all. In fact, overstretching alone can lead to DOMS.
The use of correctly fitted medical grade compression stockings or socks, graduated compression garments or calf sleeves by a Podiatrist can be worn in sport which will help to prevent the micro tears that occur during the muscle when being exercised. Nutrition and dehydration levels can also affect the soreness of the muscles.
Treatments
Hydrotherapy and spa baths may help reduce the effects of DOMS
Very light, non weight bearing aerobic exercise and stretching may also be beneficial to improve the blood flow, warm the muscles and improve range of motion as well as active rest.
Long term if you continue to do these activities that originally gave you the muscle soreness on a regular basis, your body will eventually adapt to the activity and intensity level therefore you shouldn't get the DOMS or maybe not as badly. As a general rule, do not increase training intensity and duration by more than 10% per week.
Be sure to see your Podiatrist if pain doesn't seem to be settling down or even if starts to get worse. The initial symptoms of DOMS run very similar to having a muscle sprain or strain which is why it is important to have a clinical diagnosis. The Podiatrist will do a full Biomechanics assessment to make sure that you are wearing the correct shoes and footwear for your activity, that you are not overtraining or making training errors that are leading to pain and give some advice on prevention, management and treatment of those sore legs!
To see one of our Sports Podiatrists at Eastern Foot Care Podiatry Ringwood and Eastern Foot Care Podiatry Knox can develop a management strategy to suit your presentation.
To make an appointment contact our friendly staff at:
Eastern Foot Care Ringwood
27 Wantirna Rd, RINGWOOD
Ph: (03) 9870 1301

Eastern Foot Care Knox
5a/426 Burwood Hwy, WANTIRNA SOUTH (Knox)
Ph: (03) 9887 2233