Eastern Foot Care Sports Podiatrists examine the New Balance range of running shoes
We live in an era where active footwear  is constantly gaining more ground and advancing in technology providing today's athletes with greater options in footwear choices and shoe adaptations that transcend them to improved performance and increased comfort in active lives.
This week at Eastern Foot Care we were delighted to have Matt Spicer from New Balance come to our clinics to educate and show us the advancing technology in their new footwear range.
New Balance has enhanced their footwear by increasing shock attenuation properties in running shoes, providing the athlete with more pressure absorption through their gait cycle when walking or running. In particular shoes such as the Fresh Foam 1080 have taken this area of technology to new heights and allowing a more fluid transition from heel strike to toe off during the gait cycle through their hexagon sole configuration technology.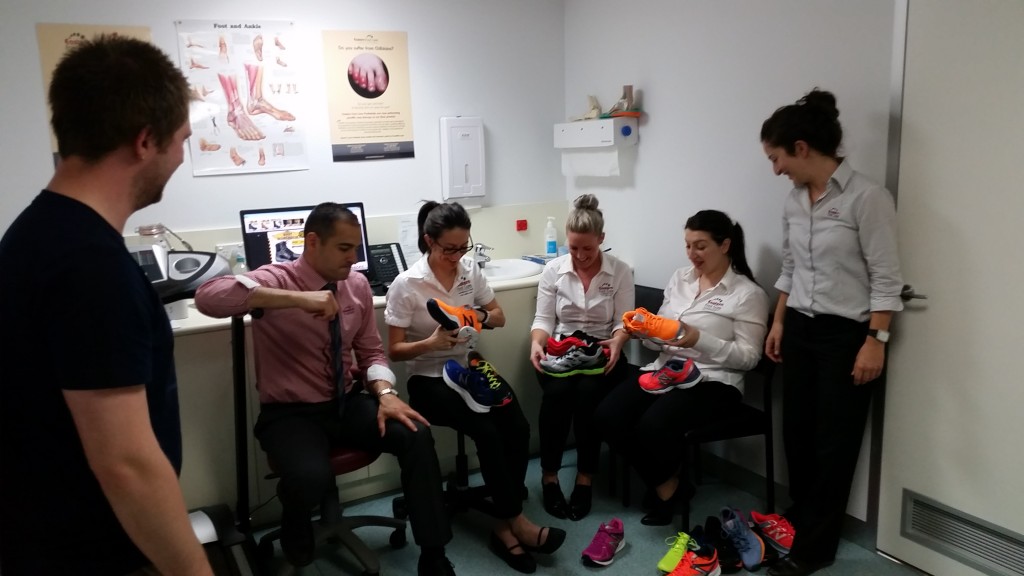 Cross trainers for sports such as tennis are now equipped with increased lateral forefoot stability in the sole of the shoe, aiming to prevent lateral ankle sprains through an additional lateral forefoot flare. The New Balance 696V2 cross trainer has been shown through internal testing conducted by New Balance to dramatically reduce lateral ankle sprains in elite athletes as well as continuing to provide cushioning properties and a herring-bone sole.
The Sports Podiatrists at Eastern Foot Care are always aiming to find the perfect shoe options for their patients. Finding the right shoe for people who require orthotic therapy for their musculoskeletal concerns can sometimes be a challenge due to shallow heel counters and weak outer soles of many of the active shoes on the market.   New Balance were able to provide  us with a neutral, laterally stable and deep heel counter option such as the 880 giving the Podiatrist a suitable running shoe when options are limited for orthotic use.
Eastern Foot Care have been able to take onboard the advancing changes in the world of active footwear and therefore provide more options and solutions for their patients. For a comprehensive biomechanical assessment and individualised footwear advice our Sports Podiatrists are available at two locations in the eastern suburbs:
Eastern Foot Care Ringwood
27 Wantirna Rd
RINGWOOD VIC 3134
(03) 9870 1301
Eastern Foot Care Knox
5a/426 Burwood Hwy
WANTIRNA STH VIC 3152
(03) 9887 2233