Eastern Foot Care Sponsors Daimon John Kift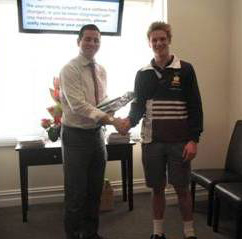 Eastern Foot Care is proud to sponsor Daimon John Kift, an aspiring footballer from the Eastern Ranges. Daimon is keen to become a better player, a leader in the community and a role model to others. Through the sponsorship, Eastern Foot Care can assist this young player develop his skills to compete at the TAC Cup Level and possibly be selected in the AFL National Draft.
Daimon also hopes to pursue the study of physiology, psychology, biomechanics, as well as the treatment and prevention of injuries related to sports medicine.
Through this initiative, Eastern Foot Care believes it can have a positive impact on this young achiever's personal development into a mature young adult, and he can in turn be a positive influence to many others.