"Complete players guide to soccer boot selection" – Sports Podiatrist Andrew Midolo reviews the current boots on the market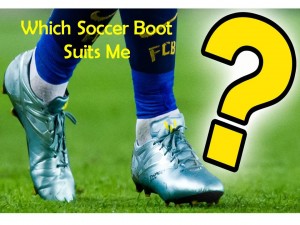 As the football and soccer seasons kick off, players begin looking for a boot that will last the entire season, be comfortable and not increase their risk for injury. As AFL and soccer are different sports with differing positions and physical actions, the advice on what is the best boot is not the same for both. To select the most appropriate boot we must first understand the components of a boot and how this assists with function
Soccer Boot Components
Upper Material
Leather
Provides more durability and protection.
May take time to 'wear in' and mould to the foot
Synthetic material
Less durable, but usually able to wear straight away,
lightweight and
more control
Reinforced
the upper can also be reinforced on the inside (medial) or outside (lateral) of the boot.
This helps reduce movement of the foot in the boot and provides a snug fit.
If the boot is narrow with this feature it can potentially cause forefoot issues due to compression
Heel
Heel Lift:
A heel lift incorporated into the boot can assist with offloading and reducing stress on soft tissue structures. This is especially true for the calf and hamstring muscle groups.
A flat heeled boot may increase the risk of injury – especially if there is a history of lower limb injury.
Heel counter
secures your foot within the boot and providing support to the rear foot and ankle.
Insole
Removable insole
can be important in a boot that will require an orthotic device to fit and can provide extra comfort and support.
A stiff midsole can help in preventing abnormal torsion forces on the foot and help with sprinting as it can provide a spring like effect
Soccer Boot Selection:
Before choosing a boot for your game you must know what is required of your playing position:
Goalkeepers:
Require good traction to move quickly from side-to-side and ability to make clean passes and clearances
Defenders:
Require clean strike zone for passing, with extra protection for when making tackles
Cushioned touch for clean passing and control.
Bladed studs to help prevent slippage on firm-soft grounds
Midfielders:
Require a comfort and control to be able to run for an entire 90 minutes
Forwards and wingers:
Require lightweight boots for explosive movements and clean strike zone for crossing and shooting
Matching Boots with Playing Position:
With the vast array of boots on the market combined with the constant stream of new releases by competing brands it can be difficult to match a boot features required for your foot and playing position. The following is breakdown of boots matched to playing position and features they offer.
Defenders:
Nike Tiempo: Leather upper, reinforced upper, cushioned upper,  forefoot support, heel counter
Umbro Meduasae II: heel counter, cushioned upper
Asics lethal: Heel raise, removable insole, heel counter, stiff mid sole,
X-Blades Legend: wide fit, heel counter, removable insole, stiff mid sole, cushioned upper
Midfielders:
Adidas Copa: leather upper, heel lifts, arch support, removable sock liner – for comfort, stiff mid sole
Adidas Predator: synthetic upper, heel counter, reinforced upper – medial lateral support, narrower fit
Nike Magista: Contoured insole, heel counter, synth lightweight upper, reinforced lateral and medial aspects of upper
XBlades Jet 18: Silicone lining, removable insole
Forwards and wingers:
Nike Hypervenom: contoured insole, heel counter, no seams – reduce pressure around the foot
Adidas X: synth upper-lightweight, heel counter, traction, narrow foot type
Adidas Nemeziz: reinforced medial and lateral aspect of upper, synth upper-lightweight, stiff midsole, better for players with wider foot
Asics Menace: removable sock liner, slight heel lift, high density rubber sole, stiff mid sole, heel counter
Sports Podiatrist Andrew Midolo consults at Eastern Foot Care Ringwood and Knox. He is passionate about delivering top podiatry care and advice to soccer players and has an extensive knowledge of soccer boots having previously played in the National Premier League with Bulleen Lions