CAM Walkers at Eastern Foot Care
The Sports Podiatrists at Eastern Foot Care are experts at managing sports injuries, including:
– Acute fractures from a specific injury
– Stress fractures related to overuse/overtraining
– High-grade ankle sprains
– Chronic overuse tendon injuries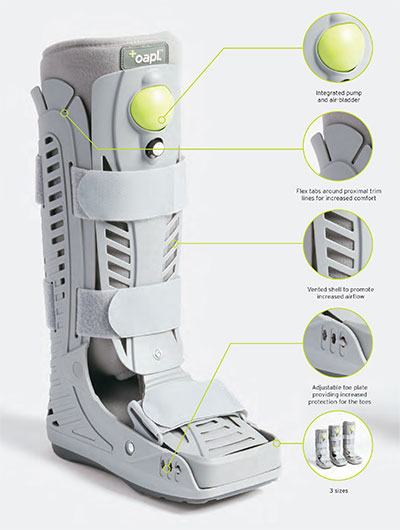 Occasionally we will utilise various forms of immobilisation to allow appropriate offloading of injured structures and facilitate healing. The Sports Podiatrists achieve this via a number of means:
– Immobilisation casting using a backslab or full below-knee cast
– Crutches
– Use of a CAM (Controlled Ankle Motion) Walker, commonly known as a "Moon Boot"
At Eastern Foot Care the Sports Podiatrists utilise a number of different CAM Walkers depending on individual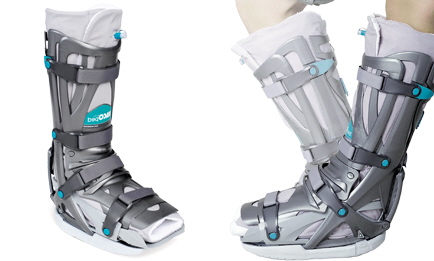 patient requirements. The two main types that we employ are:
– A standard CAM Walker, appropriate for most lower limb injuries
– A Vaco-Ped Immobilisation Walker, which gives the Podiatrist superior control over oedema management, foot and ankle position, and wound off-loading – http://www.oped.com.au/products/vacoped/
Eastern Foot Care Ringwood and Eastern Foot Care Knox holds a range of CAM Walkers in stock for issue to patients during consultations as part of a treatment plan, or on referral from a GP, surgeon or other allied health practitioner.
To make an appointment to see one of our Sports Podiatrists contact us on:
Eastern Foot Care Knox
5A/426 Burwood Hwy
Wantirna South VIC 3152
Ph: (03) 9887 2233
Eastern Foot Care Ringwood
27 Wantirna Rd
Ringwood VIC 3134
Ph: (03) 9870 1301