1st MTP joint (big toe) arthritis – Hallux Rigidus
Hallux rigidus is the clinical name given to degenerative arthritis of the big toe joint (1st metatarsophalangeal joint).
It is a common form of osteoarthritis of the foot, affecting 10% of people aged 20-34 years and up to 44% of people over the age of 80 years. Females typically are more commonly affected than males.
Hallux rigidus often presents with osteophytic spurring around the 1st MTP joint and is commonly confused with hallux valgus, otherwise known as a bunion. It is important to recognise that these conditions are completely different and as such have a different diagnostic workup and treatment pathway.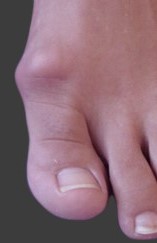 CAUSE:
The underlying cause of hallux rigidus is considered to be multifactorial in nature. A level of degenerative joint change and subsequent articular cartilage loss characterises the main pathophysiological changes seen in hallux rigidus.
Some common risk factors that predispose to hallux rigidus include:
History of acute trauma (fracture/stubbing the toe/dropping something on the joint)
Repetitive microtrauma (inappropriate footwear/individual biomechanics)
Age-related changes
Hereditary predisposition
Inflammatory arthritis conditions (eg Rheumatoid arthritis)
SYMPTOMS:
Hallux rigidus can present as pain around the big toe joint when walking, climbing stairs and pushing off the toe joint, with stiffness and difficulty bending the joint commonly present. The joint may appear larger and aggravated with characteristic spurring/bone formation known as osteophytes present around the joint.
DIAGNOSIS
In most cases your Sports Podiatrist will be able to diagnose hallux rigidus based on clinical signs and symptoms and a physical examination. Often plain film x-rays will be used to assess the level of degenerative change to the joint.
In the below pictures varying degrees of degenerative arthritis are depicted in association with hallux rigidus, with a relatively normal 1st MTP joint noted in Figure A, progressing to severe arthrosis in Figure C.

TREATMENT:
The Eastern Foot Care Sports Podiatrists at Ringwood and Knox are able to offer a number of non-surgical and conservative management strategies which aim to decrease symptoms and slow the progression of hallux rigidus. Some of these include:
Footwear advice/education and in some instances modification to existing footwear
Foot orthoses/specialised shoe inserts
Education regarding pain management strategies
Physical therapy modalities like joint mobilisation/manipulation
Exercise programs to facilitate healthy joint movement and limit pain